April 8, 2017 – Board meeting – 9 a.m. folllowed by a work day at Museum
May 6, 2017 – Wedding Bells – Program at 1 p.m. at Concord Community Center
June 10, 2017 – Board meeting – 10 a.m. at Museum
July 9, 2017 – Oral History Program – 1-3 at *Museum
August 13, 2017 – Town of Concord Picnic with Town Heritage Awards at Concord Park 12:00 noon. Bring a dish to pass for potluck picnic lunch. Concord Historical Museum and William R. Look Log Cabin will be open.
September 24, 2017 – Annual Meeting with potluck dinner at 12 noon meeting and program on the twelve Concord Cemeteries to follow at *Museum. Bring a dish to pass, beverages and table ware will be provided. Player piano music to follow program.
October 15, 2017 – Pie Social Fundraiser at *Museum 11:30 to 2:30 p.m. We serve a delicious lunch that you can finih off with a fresh piece of homemade pie. Join us!
November 4, 2017 – Board meeting @ 10 a.m. at *Museum
(*Concord Historical Museum is located at W1185 Concord Center Drive, Sullivan, WI 53178 – across from Dahnert – Concord Park and the William R. Look Log Cabin.)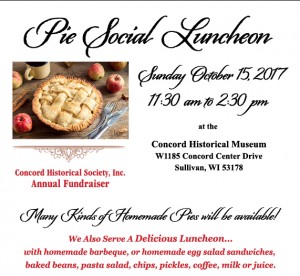 Our Current Exhibit
 A Portrait of a Town: Concord, Wisconsin 
This exhibit  features historic and contemporary photos of individuals, and families who have lived, or currently live in the Town of Concord, WI. We also updated the exhibit in spring of 2017 with with the" Wedding Bells" program additional photos. We have over 160 wedding photos of local residents on display. Make an appointment to come see it!